The Data Management Plan (DMP) is based on the obligation to preserve, share, and publish research data. This is often a condition of some major funders (e.g., Horizon Europe). The DMP is a living document that describes exactly the "life cycle" of the data, i.e., how it will be acquired, its description, metadata and all ethical and legal aspects. The plan specifies data storage and backup, long-term preservation, publication and, finally, all responsible people and resources. It should be created at the very beginning of the project and the author or authors could use a reliable online tool to create it, for example  Data Stewardship Wizard.
But a DMP does not have to be project-specific, it is also about the handling of research data at the level of the entire organisation. The following image describes the cycle of research data effective handling: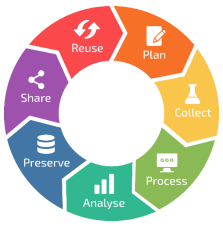 © RDMkit
More on the data lifecycle can be found at: https://dynamics.folio3.com/blog/what-are-the-three-main-goals-of-data-lifecycle-management-dlm/. This is not a one-off action, but a long-term process. This process must be constantly monitored and maintained throughout the data lifecycle.
In addition to Data Stewardship Wizard online tool (https://ds-wizard.org/) there are also other ones as DMPonline (https://dmponline.dcc.ac.uk/) or Argos (https://argos.openaire.eu/splash/). Your DMP could be also published as a full article (https://riojournal.com/).
DMP samples: